Abby's Ultimate Dance Competition
General Information
Country of origin:
United States
Number of seasons:
2
Number of episodes:
23 (including 1 special)
Broadcast Information
Original channel:
Lifetime
Premiere:
October 9, 2012
Finale:
November 19, 2013
Chronology
Related Shows:
Dance Moms

Abby's Ultimate Dance Competition (originally titled My Kid Can Dance) is an American dance reality competition series. The series encompasses talented boy and girl dancers who are competing for the top spot and a scholarship to a prestigious dance academy.
The first season aired on October 9, 2012 and concluded on December 11, 2012. A second and final season later aired from September 3, 2013 and concluded on November 19, 2013.
Episode Guide
To view the episode guide for "Abby's Ultimate Dance Competition", click here.
Cast
Season 2
Host
Judges
Choreographers
Tessandra Chavez
Anthony Burell  
Tarua Hall
Joyce Chittick
Q Pittman
Matt Cady
Erik Saradpon
Shannon Beach
Nito Larizo
Peter Chu
Lesley A. Bandy
Victor Rojas
Mothers
Dancers
Music Guide
To view music that was featured on the show, click here.
Other Information
The audition process has never been fully revealed but pieces have been released by the dancers and moms on the show:

Dancers submit an audition tape
The top 25 were flown to New York and performed two routines.
The top 14 were flown to L.A. for the Casting Special.

Group Dances were performed every week but most were not shown on the show. The group dances (even the ones released on the show) were posted on the official website (ones that were shown on TV were posted as an extended version).
Madison O'Connor said in an interview the dancers danced 8 hours a day.
Yvette Walts, the mother of Hadley Walts, stated in an interview that 2,000 tapes were submitted to the show, estimating around 2,000 dancers auditioned for the show's first season.
Possibility of Season 3:

On the Dance Moms Reunion: Hurricane Abby, Abby mentioned that along with her nationwide tour to cast dancers for the ALDC, she was also casting for Abby's Ultimate Dance Competition, which indicated that Season 3 would happen after Season 4 of Dance Moms- however, this was not the case.
Additionally, the casting tab on the Abby's Ultimate Dance Competition website is still open however it never closed even after Season 2 was done casting.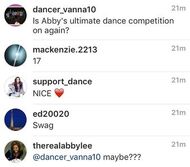 Abby revealed in an interview that AUDC Season 3 was put on hold for her new show "Abby's Studio Rescue".
Considering Abby's Studio Rescue's cancellation, a Season 3 may be possible.
In September of 2016, Abby suggested that AUDC may be making a return.
External Links